Overview
PAPI provides tool designers and application engineers with a consistent interface and methodology for the use of low-level performance counter hardware found across the entire compute system (i.e. CPUs, GPUs, on/off-chip memory, interconnects, I/O system, energy/power, etc.). PAPI enables users to see, in near real time, the relationships between software performance and hardware events across the entire compute system.
Exa-PAPI builds on the latest PAPI project and we will extend it with:
Performance counter monitoring capabilities for new and advanced ECP hardware, and also software technologies (see 4.);
Fine-grained power management support;
Integration capabilities for exascale paradigms, such as task-based runtime systems that support dataflow programming models;
"Software-defined Events" that originate from the ECP software stack and are currently treated as black boxes (i.e., communication libraries, math libraries, task-based runtime systems, etc.).
The objective is to enable monitoring of both types of performance events---hardware- and software-related events---in a uniform way, through one consistent PAPI interface. That implies, 3rd-party tools and application developers have to handle only a single hook to PAPI in order to access all hardware performance counters in a system, including the new software-defined events.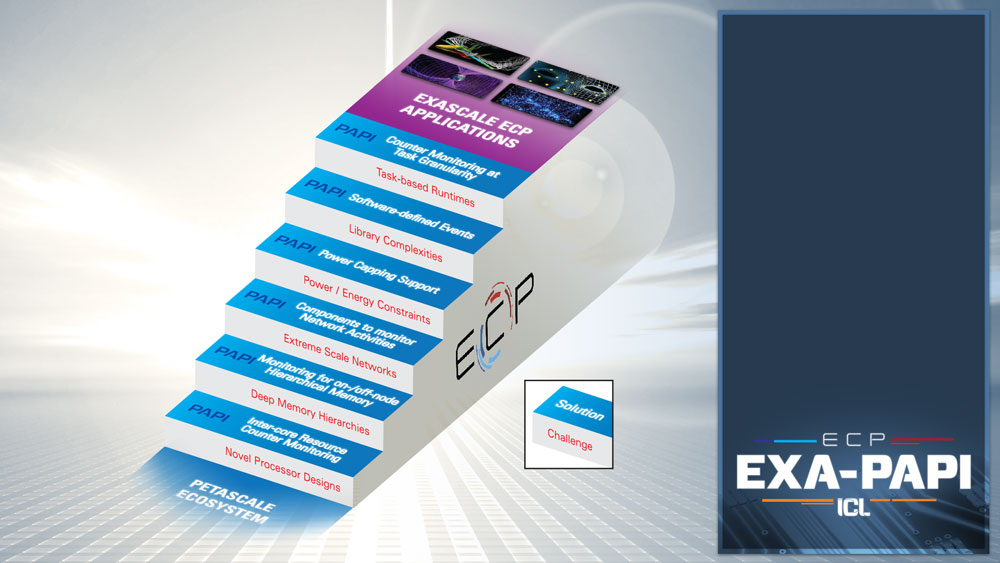 Supported Architectures
AMD, power
ARM Cortex A8, A9, A15, ARM64
Cray: Gemini and Aries interconnects, power
IBM Blue Gene Series, Q: 5D-Torus, I/O system, EMON power/energy
IBM Power Series
Intel Westmere, Sandy|Ivy Bridge, Haswell, Broadwell, Skylake, KNC, Knights Landing
Intel KNC, Knights Landing power/energy
Intel RAPL (power/energy); power capping
InfiniBand
Lustre FS
NVIDIA Tesla, Kepler: CUDA support for multiple GPUs; PC Sampling
NVIDIA NVML
Virtual Environments: VMware, KVM